Navigating the DevOps Landscape: Insights from the VP of Technology DevOps at SGX Group
13 October 2023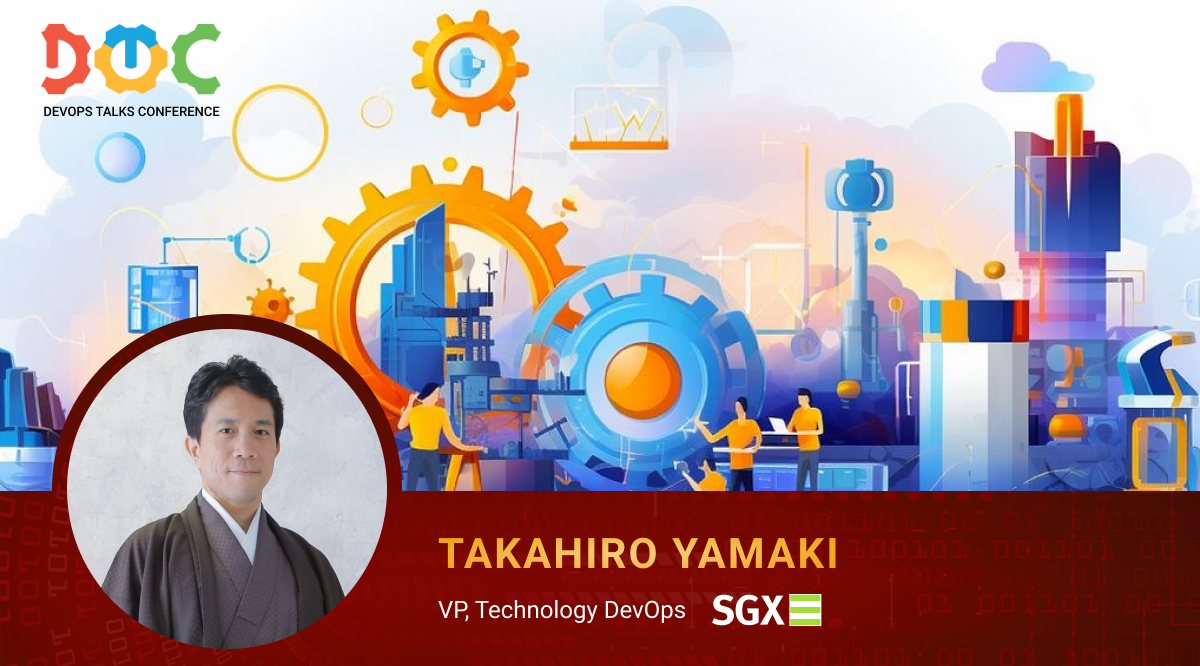 Takahiro Yamaki
Navigating the DevOps Landscape: Insights from the VP of Technology DevOps at SGX Group
In the ever-evolving world of technology, DevOps has emerged as a critical practice for organisations looking to streamline their software development and deployment processes. We had the privilege of sitting down with Takahiro Yamaki, the Vice President of Technology DevOps at SGX Group following the DevOps Talks Conference Singapore 2023 to discuss areas such as guidance for individuals seeking to advance in their careers and advice for graduates entering the industry.
As the Vice President of Technology DevOps, Taka holds a crucial position responsible for designing, implementing, and continuously enhancing the organisation's CI/CD process. He maintains close collaboration with the development team, both on-premise and the cloud infrastructure team, the information security team and various other stakeholders in order to ensure the smooth functioning of operations. Prior to joining SGX Group, Takahiro gained experience in the industry during his tenure of 7 years at Rakuten and 8 years at IT Frontier.
SGX Group (Singapore Exchange) is a leading and trusted securities and derivatives market infrastructure in Asia. It operates equity, fixed-income, and derivatives markets to the highest regulatory standards. The company is dedicated to facilitating sustainable economic growth and is committed to climate action. As Asia's most international exchange, it offers a wide range of services, including listing, trading, clearing, settlement, and data services. SGX is known for its liquidity and risk management capabilities and is headquartered in AAA-rated Singapore. It also operates a multi-asset sustainability platform called SGX FIRST, focusing on reshaping sustainability together.
---
Hi Taka, thank you for taking the time to sit with me, let's get started:
What have you enjoyed most about attending the DevOps Talks Conference Singapore 2023?
Takahiro: I enjoyed a wide variety of DevOps-related topics shared and got some hints to add to my next plans.
What presentations or speakers are you looking forward to the most, and why?
Takahiro:
There were a couple:
Dave Hall - "Proactive Ops: Event Driven IT Operations", because I don't have experience regarding this topic and wanted to learn more about this area. Scott Shaw - "Platforms in Practice", because Platform Engineering is my next area of focus. And Graeme Wilson - "Compliance as Code: Enhancing DevSecOps Efficiency and Security", because the business domain he is in is close to my current company.
What are some of the things that you enjoy in your role as Vice President of Technology DevOps at SGX Group?
Takahiro: I enjoy all aspects from detailed design to system roll-out. Developing pipeline templates is also a new and exciting skill for me. I learned what can be common (standard) and what should be parameters (customisation).
What is your advice to recent graduates entering the industry?
Takahiro: Getting as much hands-on experience in software development (code to deployment, any language) will be helpful for you to understand DevOps.
What are some of the challenges you have had to overcome in your career to date?
Takahiro: Getting a new budget to improve/expand the CI/CD system is an ongoing challenge for me. E.g. How much can we save the cost? How much can we increase the security? ROI?
Highlight a recent impactful DevOps tool or approach you've adopted.
Takahiro: SCA (Software Composition Analysis) is really helpful to know immediately what CVEs are included in the application binaries.

Takahiro Yamaki is a dedicated DevOps professional, contributing significantly to SGX Group's success and serving as an inspiration to newcomers in the industry. It was a great pleasure to get the chance to interview Takahiro and acquire insight into his work.